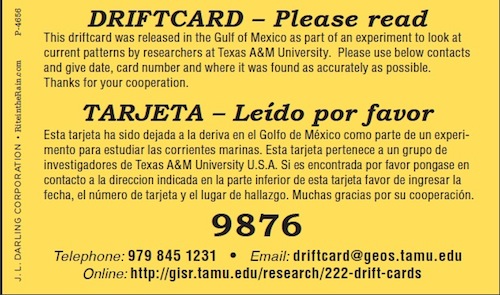 This is a part of Gulf Integrated Spill Research (GISR) consortium program.
GISR uses floating environmentally-friendly drift cards as a surrogate marker for the transport for a surface oil slick.
Scientists on research cruises, funded by the Gulf of Mexico Research Initiative (GoMRI), will drop these cards at various locations in the Gulf and keep a detailed record of the point of entry.
Each card has a unique number and instructions for the public to call or email the card number and describe where they found it. These cards will serve the dual purpose of tracking the surface currents and being a tool for community outreach.
http://gisr-consortium.org/